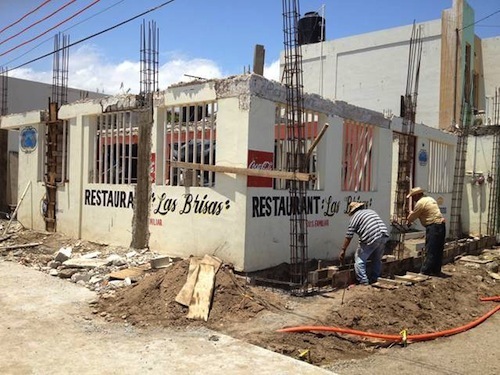 Las Brisas Restaurant Adds Second Floor.
On our last trip down to La Peñita for the tiangas market we swung by one of our favorite restaurants, Las Brias, for a cold cerveza and a plate of Jaltemba Bay's freshest shrimp.  To our dismay the restaurant was closed.  We chatted briefly with the warm owner, Tiki and he informed us that he was adding a second floor to coincide with the opening of the new Malecón (boardwalk) along the ocean.  No shrimp here until at least late July.
We stumbled upon Las Brisas one one of our very first trips to the Riviera Nayarit and it's become a go-to lunch spot on about every trip since.  The food is great, the scenery can't be beat, and the warm service Tiki provides is impeccable.  After a day full of market shopping, this makes for the absolute perfect spot to unwind.  The view from the beach was amazing, I can only imagine what it'll be like from the second floor balcony.
Jaltemba Bay Life has a great article detailing the progress of the Malecón construction and Tiki's addition.  If you're interested, be sure to take a look:
Did you enjoy this article?
---